Our travel editor shares her favorite spots on these iconic Caribbean islands.
Every winter in New York City advertisements declaring "It's better in the Bahamas" wallpaper the subway system just as the coldest fronts bring their bone-chilling temperatures. Intrigued by the promise (and tired of calculating the wind-chill factor), my husband and I escaped to the island nation that's located just 90 miles to the southeast of Miami and a world away from chilly city living.
Paradise Found
The 105-room aptly named One & Only Ocean Club resort is an oasis of tranquility located on the even more appropriately monikered Paradise Island. The elite resort has been on this oceanfront swath of land since 1959 when it was a private estate. Today the impeccable grounds encompass tropical gardens, powder fine sands, and endless green lawns. The sparkling white sand beach may be the property's headliner—gotta love those buckets of ice-cold beer, and the opportunity to rip it up on a Jet Ski—but the terraced Versailles Gardens are simply spectacular. Antique stone and bronze statues stand among fragrant hibiscus, climbing bougainvillea and the resort's highest point, dramatic cloister arches that date from the 12th century. Not only is this my top choice for a wedding at the hotel, it's also a fantastic place to host a torch-lit reception. Another gorgeous ceremony site is the property's wooden yoga platform, shady siesta.
The pristine grounds of the gorgeous One & Only Ocean Club. (Photo courtesy of One & Only Resorts).
Good Eats
To say that the food prices in the Bahamas are prohibitive is an understatement. Due to importation needs and fuel surcharges, island cuisine comes at a premium. There's no shortage of all-inclusive properties across the islands (my favorite of which is the picturesque Sands Emerald Bay on the island of Great Exuma). Stay at one and you can keep your budget in check. If you're looking for a special-occasion splurge, a variety of top chefs—from Bobby Flay to Nobu— have set up shop on Paradise Island. For a more local experience head over to Nassau's fish fry, a street lined with ramshackle restaurants offering island specialties including conch salad (a ceviche-style seafood dish), deep-fried conch fritters, conch chowder and spicy peas and rice. On the out islands (those that are further from the capital of Nassau) have a trusted cab driver bring you to his favorite roadside lunch spot for a straight-from-the sea or spicy jerk meal.
Sandals Emerald Bay on Great Exuma. (Photo courtesy of Sandals Emerald Bay, Great Exuma, Bahamas).
The Beach Club
Miami's sizzle meets NYC's cool factor with a "what happens in Vegas" mindset at The Cove Atlantis, a hip resort within the Paradise Island mega property Atlantis. Guest rooms here are sleek, as is the hotel's modern open-air lobby and exclusive adults only pool/club area, Cain at The Cove. International DJs spin tunes while patrons relax on oversize beds, play craps or blackjack on outdoor gaming tables and coyly splash in the pool. The beachside cabanas are an awesome perch from which to watch it all. They have comfy couches, personal attendants, huge TVs, levered wooden windows for invoking some privacy and the best feature of all—private bathrooms. True story: When I was there Jay-Z and Beyoncé was holed up in a cabana as the NYC-based DJ played an Empire State of Mind-Single Ladies mash-up.
Beach+ palm trees + pool = Yes. It's better in the Bahamas.
What a sweet view at Atlantis. (Photos courtesy of Atlantis).Sight Sea-ing
The more than 700 islands that comprise the Bahamian chain are surrounded by brilliant blue water that's nearly translucent. So it stands to reason that watersports are the archipelago's hottest activities. Book a half-day kayaking excursion with Island Routes Caribbean Tours in Exuma and you'll be treated to awesome sightings of water animals all at only a paddle's length away. Hello, friendly turtles and starfish! The motorized tours take you to deserted sand flats that stretch for miles at low tide. Ask the captain to let you out for a sunset walk. Don't miss: A boat ride to see the archipelago's most talked-about sea creatures— swimming pigs. Yes, pigs.
Just paddling around the Great Exuma.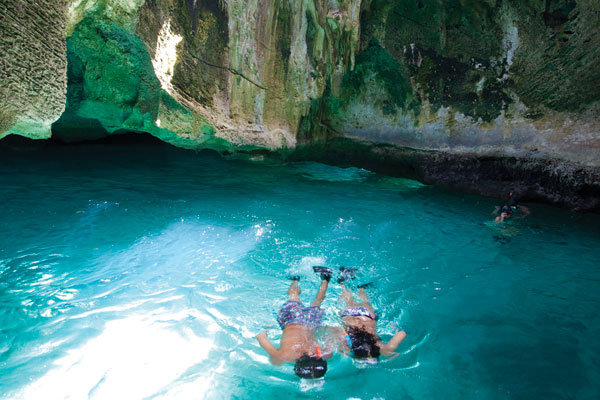 Snorkeling is a top Bahamian activity. (Photos courtesy of Island Routes Carribean Aventure Tours).
Pampering Plus
Call it a curse, but I can't go to any new destination without experiencing a spa treatment. And if I had to choose one spot to repeat I'd opt for an experience in the bungalows at the One & Only Ocean Club. Each treatment room is actually an individual villa for two. The Asian-inspired spaces are breezy, tranquil and oh so private. I love the mini-gardens with fountains and Balinese beds and fragrant flora.